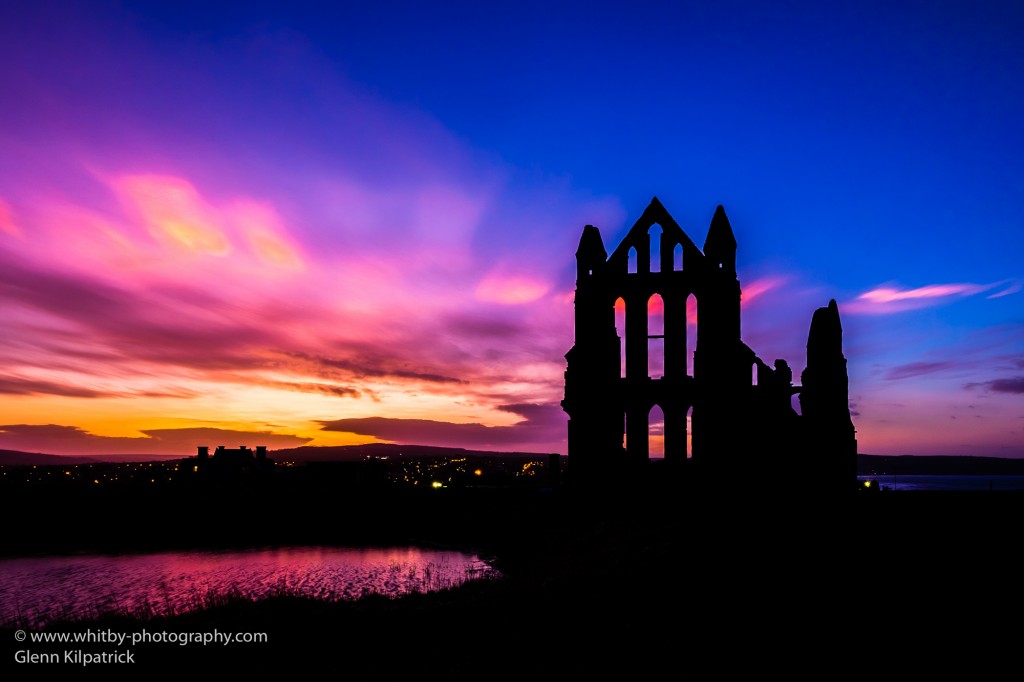 Whitby
Whitby is the gateway to the Heritage North Yorkshire coast and is steeped in history and culture. With its associations with Captain James Cook, one of the country's greatest explorers, Whitby Abbey, one of the country's leading architectural sites and the proximity to the North Yorkshire Moors National Park, it's hardly surprising to find, that after London, this part of the North Yorkshire coastline has, at times been rated the second most popular place to visit in the United Kingdom. In spring 2019 Whitby beach was the only beach in Yorkshire to be awarded Blue Flag status.
Whitby is a small fishing town, unspoilt by time, with its winding cobbled streets and fascinating shops. You will find local crafts such as jewellery made from the famous Whitby Jet and local Victorian photographs by Frank Meadow Sutcliff. For antique collectors there are numerous antique shops throughout the town. For nature lovers there are sea trips from the harbour to see whales, dolphins and seals at the appropriate times of the year. For walkers, the North Yorkshire Moors National Park is right on our doorstep.
The town is famous for its seafood.  There are numerous restaurants offering a whole spectrum of dishes, from a traditional Fish n' Chip supper to fine dining experiences, including lobster Benedict for breakfast! Scroll down for restaurant suggestions.
Many of Whitby's hotels and guest houses are historic listed period buildings, as is White Linen Whitby. There are also many old inns, coffee shops and seafood restaurants which are set in wonderful period buildings. The harbour with its magnificent pair of piers, dominates the town and is overlooked by the ancient ruins of Whitby Abbey.
There is always something interesting going on in Whitby: Twice a year Goths gather in the port for the Goth Festival, a photographer's delight with dramatic costumes and make-up.  Just before the autumn event, there's a horror extravaganza in the International Bram Stoker Film Festival, paying tribute to the creator of Dracula. Whitby also offers music – Whitby Folk Week and Musicport have loyal followings, and are growing every year – and there are regular music weekends covering everything from rock and soul to jazz and 60s music at the Whitby Pavilion. For those who love the sea, there's the annual Whitby Regatta, the oldest sea regatta on the North East Coast.  The newest attraction to arrive in Whitby is a full-size replica of Captain Cook's HMS Endeavour.  This magnificent ship is the centre-point of The Endeavor Experience and is moored in the town centre at Endeavour Wharf.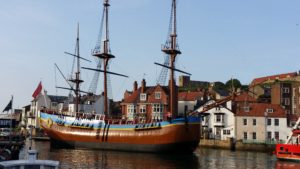 At times of special events, hotels and guest houses become booked-up well in advance, so it's advisable to make your reservation early.
The following links to local guides will give you an idea of What's on in Whitby and the surrounding area, so that you can plan your visit:
The Whitby Guide – things to do in Whitby 
Discover Yorkshire Coast: Whitby
Whitby Pavilion – the venue for many events in Whitby
Visit Whitby
Whitby Restaurants – click here for recommended restaurants
Click on the following link for tide times:
Header image by kind permission: Glenn Kilpatrick – www.whitby-photography.com